Blog: 2016, the year of the new brand champion and employee social advocacy
Category: Blogging, Social Media
Wednesday January 6th, 2016
I started this article the same way most marketing bloggers will have over the last few weeks – "Top Marketing Trends for 2016" or some such.
But those others have by now already written that article a dozen times over, and I won't be bringing much new to the table. More mobile, more social, more video – same as last year, really.
So instead I'll focus on one area that may already be big news but will only grow and grow as 2016 winds on – the role of the brand champion in this brave new social internet.
We already know the phrase: 'brand champion'. The early adopter who tells his mates how great you are. The testimonial-leaver. The one who retweets your every word.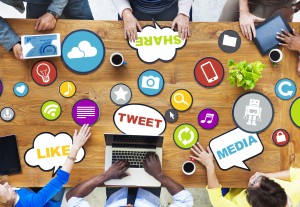 For marketers, for businesses full stop, they're awesome people to have on board. Major holiday brands are using links to Tripadvisor instead of their own rating systems, and I wouldn't dare purchase anything off Amazon without at least consulting the highest and lowest-scoring reviews first. But along with encouraging this kind of instant customer feedback where you can (and let's face it, that easier done in the world of B2C than it is B2B), there's a whole other untapped resource just waiting to shout your name from the rooftops: your own staff.
Employee advocacy is a cornerstone of any employee engagement strategy, but with social media it's more important than ever. By encouraging employees to share, repost and retweet your content far and wide, you have the opportunity to exponentially increase the reach of your content. Sure, it'll be mixed in with a load of selfies and cat pictures, but that's why they call it 'social' media. Altimeter Group's 2015 view of social media cites a 191% growth in interest in employee advocacy among businesses, and with social business software granting users social media access in the workplace as well as on their mobiles, this will certainly not slow down.
So next time you see one of your team faffing around on Facebook instead of working, give them a high-five from me.
Ross, Head of Content