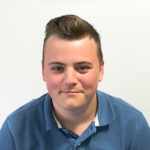 What is a content calendar & how can it make your life easier?
Category: Content, Social Media
Thursday August 10th, 2017
If you use social media in your business, you'll understand how stressful it can be trying to consistently post content. Whether you haven't got enough time, get snowed under with another project or simply forget, posting something new everyday isn't easy.
At Horizon, like many other businesses, we use a simple system that makes marketing on social media a doddle. It's called a content calendar and if you've not got one, I suggest you read on.
What is a content calendar?
A content calendar is a home for your social media schedule, a place to create your posts in advance – from which you can simply copy and paste throughout the week.
A typical calendar will be an excel spreadsheet, broken down into sections separating each social platform. This allows you to make notes for future ideas, schedule in campaign milestones and generally keep all your content ideas in one place with some semblance of structure.
See this link for a great example of a content calendar, created by Hootsuite.
Why use a content calendar?
For starters, a content calendar allows you to create and organise your entire week's social posts (and beyond) in one place, allowing you to simply copy, paste and post. This means no more rushing around last minute and throwing together half-assed tweets without any actual thought involved. Don't worry; we've all been there.
Having a content calendar opens the floodgates for company-wide collaboration too. Send it around via email or store it on your network/cloud and let your co-workers have their say; you might even receive some helpful suggestions.
What about efficiency? We all know how important it is to get as much done as possible in a working day. At Horizon we save HOURS every single week, simply by implementing a content calendar and keeping it well fed.
Automation
Another variation on the concept of a content calendar is automated social media posting, where you pre-populate a content calendar with specialist software that automatically posts your content for the date, time and social platform you select.
This is priceless for those who are short of time, and are able to pay the monthly fee (or not, in the case of some platforms). At Horizon we use a combination of both static and automated content calendars, for maximum efficiency and also to avoid the bugs that automated software can cause; bear in mind these platforms are often more focused on actual posting and analytics than on linking to your other marketing schedules, but they often do allow for collaboration.
Here are some automated content calendars that might work for you:
Best practices
Take aspects from previous successful posts, and implement these in your future ones, you'll soon find a pattern that works for your business. If you find yourself scratching around for something to write, why not put a spin on a previous post? Add more value and re-post it!
Take advantage of 'major events' (think the London Marathon or Mothers' Day for example). Simply getting involved via social media has the potential for sky-high engagement, and who doesn't want more engagement?
Try to plan ahead – tie in what you're going to write with what's going on in your business over the next few weeks and months.