Creatively communicating through the medium of print
Category: Print
Friday January 22nd, 2016
This year's calendar has gone down a storm; our new press is producing quality work!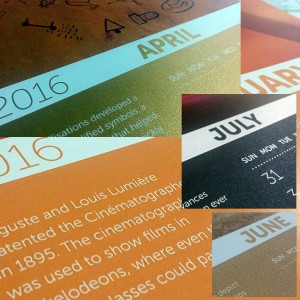 Using a wide range of tactile, textured stocks such as Peregrina Classic, Gamund Treasury and Accet Fresh our print production team has created a calendar that's as pleasing to hold as it is to look at. Printed with glosses, textured, laid, white, spot… you name it, we can do it!
If you want to stand out from the crowd and would like to see what we can do with digital print (e.g. using white ink process on a multiple of different stocks with digital spot varnish).
Print is a powerful promotional tool which, in an increasingly digital world, offers many benefits and differentiators. Book an appointment today to see our showcase 02920 463047 to find out what's possible!