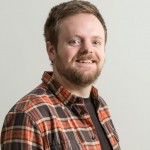 Think BIG with wide format print
Category: Blogging, Print
Monday July 25th, 2016
As our streets are apparently awash with screen-staring monster hunters living in a world of augmented reality, there can be no doubt that we're truly knee-deep in the digital age. But as phone batteries give up the ghost those people will have to look up from their Pikachus, and when they do they might just notice some old fashioned marketing messages splashed across billboards, banners and shop windows.
That's right, this week we're talking about display graphics. We've discussed previously how good old fashioned print can actually make you stand out from the digital crowd, and the same is true of wide format print.

Traditionally, wide format really comes into its own at events – if you need to make a big statement at your store opening, office event or trade show, then you're going to need something big and bold. But once that event has passed, you can still keep making splash after splash with new banners, posters and billboards.
The joy of this style of printing is that it's not as permanent as traditional signage. That means you can respond to trends and seasons, or drive new offers home with eye-catching promotional designs. It's quick to produce and relatively inexpensive, so there's no reason why it can't be frequently kept up to date.
If you'd like to know more about the wide format print (and amazing design!) available from Horizon, please get in touch with our print guru Keith.